Virtual sensors

for health and usage monitoring
Forecast component wear and tear to optimize maintenance
Are you looking for true
predictive maintenance

– way beyond On-Board Diagnostics (OBD)?
If you are working for a vehicle manufacturer, detailed vehicle health and usage monitoring (HUM) help to enable personalized maintenance plans and to minimize warranty costs. Virtual Sensors for health and usage monitoring enable:
End-of-life prediction for accurate and personalized predictive maintenance for your customers
Early anomaly detection to mitigate risks in the field
Data-driven car health certificate to increase vehicle residual value
Realistic usage profile statistics for usage-driven component design to reduce weight, environmental impact and product costs
If you are a fleet manager or fleet service provider, vehicle health monitoring is the foundation of predictive maintenance, as a milestone on the path to operational excellence in fleet business:
It reduces maintenance costs, workshop throughput time and CAPEX for spare parts
Usage monitoring allows educating drivers, to maintain vehicles in good condition for as long as possible
Early warning about weak signals of failure helps to avoid breakdowns during operation
Anomaly detection increases driver safety
Watch the demo of Virtual Sensors for predictive maintenance

deployed in a vehicle
COMPREDICT provides AI-based Virtual Sensors for health and usage monitoring of :
Passenger car
Light-commercial vehicle
Truck
Bus
Agricultural vehicle
Heavy industry vehicle
Two-wheeler
Our Virtual Sensors only use standardly available signals and data of vehicles to compute detailed information on vehicle usage and condition for a wide spectrum of components like tires, brakes or batteries.
Detect anomalies and forecast component wear and tear to
optimize maintenance

and

reduce warranty costs
How do Virtual Sensors for Health and Usage Monitoring work?
The deeper you dig into vehicle data, the more actionable insights you find.
COMPREDICT's Virtual Sensors portfolio for health and usage monitoring includes:
Vehicle mass
Tire tread depth
Brake pad and disc thickness
12/24V battery condition
Independent assessment of high voltage (HV) battery state-of-health (SOH)
Early detection of high voltage battery anomalies stemming from raw materials, cell manufacturing or assembly
Tailored insights into fatigue, damage and durability of mechanical and mechatronic components like chassis, suspension, tie rod, drive shaft or transmission
In addition to current status information, forecasts allow looking into the future. For every given vehicle, they indicate the most likely future wear and end-of-life.
In case of a sudden change in how a specific vehicle is used, e.g., harsh driving style, our Virtual Sensors quickly reflect the likelihood of accelerated wear or fatigue caused by the more demanding usage.
A Virtual Sensor can mirror any targeted physical quantity or information if proper and conclusive input and reference data are available for Virtual Sensor calibration.
Our Virtual Sensors use standard available vehicle signals, e.g., CAN bus signals, like engine speed, engine torque, wheel speeds, steering angle, etc.
Benefits for vehicle manufacturers:
Enabler for personalized predictive maintenance for increased customer retention
Key indicators to manage warranty costs
Ground truth for car health certificate
Realistic, representative usage profiles that keep you up to date with changing customer behaviour
Reliable, detailed field data that enable usage-driven component specifications, resulting in lower product costs, reduced CO2 impact and optimized durability
Benefits for fleet managers:
Enabler of true predictive maintenance
Reduction of error-prone, time-consuming manual maintenance checks
Easier workshop operations and reduction of throughput time
CAPEX optimization on spares stock
Reduction of unplanned downtime with early detection of failures
Deployment:
Cloud-to-cloud integration (OEM infrastructure or fleet solution)
Embedded in vehicles on your existing electronics (ECU or telematics hardware)
Fast deployment via the data insights platform BlackBerry IVY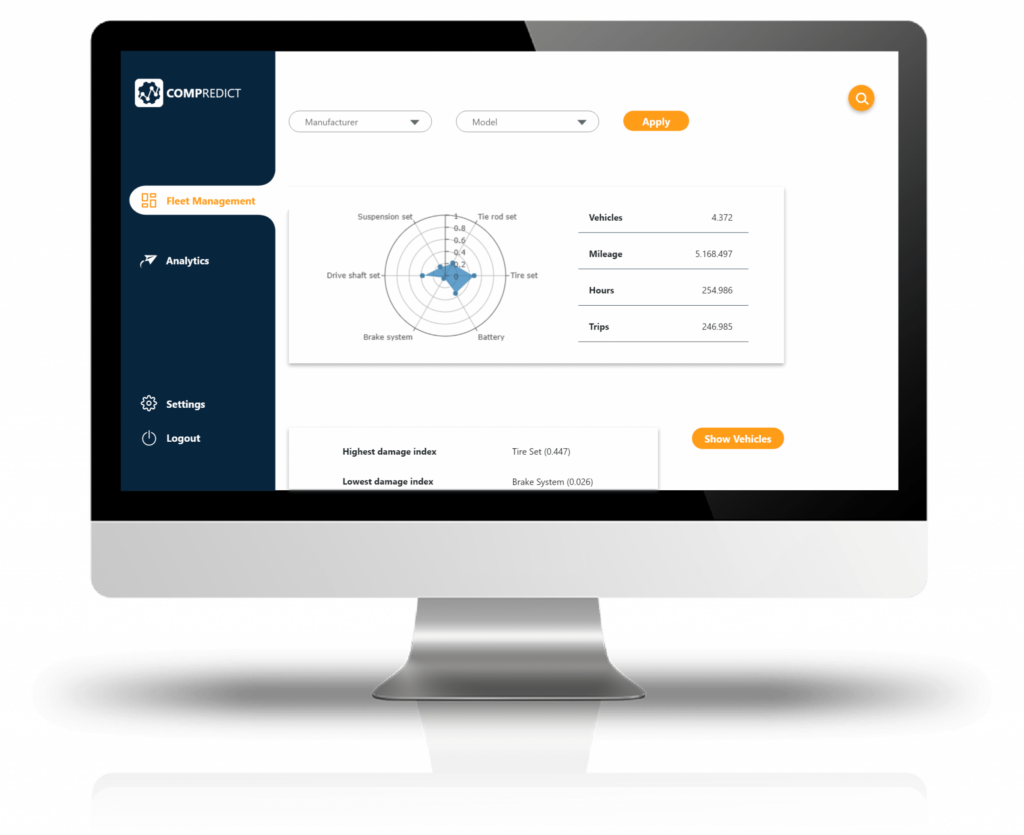 How precise are our
Virtual Sensors for Health and Usage Monitoring

?
The granularity and precision of the Virtual Sensors we deliver rank from a basic traffic light status (green/orange/red) to very accurate wear indicators (sub-mm in the case of tire wear). It depends primarily on the quality of your input data and on the reliability of the reference values used for calibration. We are happy to support you here.
The quickest way to estimate realistic output quality for your use case, is to provide us with a set of sample data.