COMPREDICT at the IAA Mobility
COMPREDICT makes mobility more reliable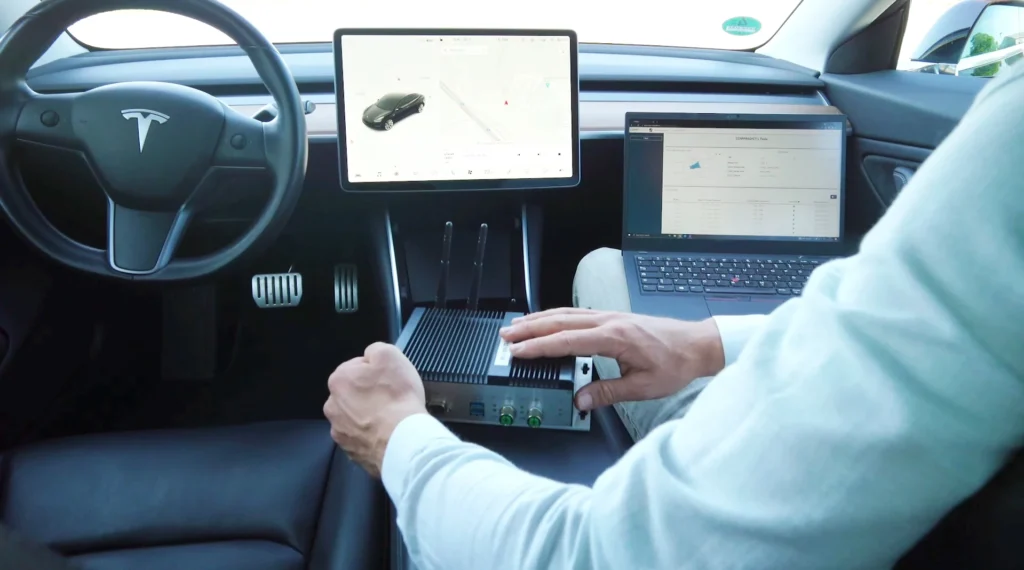 The Darmstadt-based start-up COMPREDICT knows vehicles are doing: Virtual Sensors collect data and predict, for example, when brakes need to be replaced or tires need to be changed. They also improve battery range forecasts for electric delivery vehicles. The young company is presenting itself to a larger audience for the first time at the IAA Mobility 2021 in Munich.
Darmstadt, Germany – September 7, 2021 (translated from German)
COMPREDICT ist eine Ausgründung der TU Darmstadt. Dort entstand die Idee für das Unternehmen, das die beiden Geschäftsführer Rafael Fietzek und Stéphane Foulard 2016 mit weiteren Partnern gründeten. Auf der IAA 2019 gewann COMPREDICT den Start-up-Wettbewerb "New Mobility World". Bereits jetzt gilt das Unternehmen als Vorreiter bei der Entwicklung virtueller Sensoren für Fahrzeuge.
We are very pleased that we will finally be able to present our solutions to a wide audience at IAA Mobility 2021. The year 2020 was difficult, but we came through the crisis well. We used the time to drive product development forward and are now proud to be able to offer our customers a whole range of Virtual Sensors for very different vehicles ."
COMPREDICT solutions take advantage of the large amounts of data and information that vehicles provide with every kilometer driven. From this data, the company develops AI-based algorithms: They calculate real-time load and condition information on the vehicle, for example for brakes, tires, battery or for the complete vehicle drive. Vehicle manufacturers benefit, for example, because they can design components more precisely based on real data. The Virtual Sensors also open up opportunities for savings by replacing real hardware sensors.
In terms of data quality, our solutions potentially turn any production vehicle into a test vehicle, as it was equipped with additional hardware sensors."
COMPREDICT's AI-based solutions are also of interest to fleet operators. They can use them to plan ahead, maintain their vehicles at an early stage – and thus avoid expensive, unplanned downtime and repairs. COMPREDICT is now working on a range prediction solution that optimizes the use of electric delivery vehicles. Logistics companies in particular are increasingly relying on electric delivery vehicles to deliver their goods in order to achieve their sustainability goals. In addition, many major European cities are imposing increasingly strict rules on the entry of vehicles with combustion engines.
COMPREDICT's AI-based software solution calculates the current total mass of a delivery vehicle from real-time vehicle data such as accelerator pedal position and driving speed – with an accuracy of plus/minus five percent. This data can be used to precisely predict when the vehicle needs to be plugged in again, taking into account the current load. After each stop and further unloading, the software recalculates the range. Based on this data, fleet operators can plan their tours more efficiently, avoid unnecessary downtime and deliver their goods on time.
Our solutions make mobility more reliable and more sustainable. They make an important contribution to reducing CO2 emissions on Europe's roads, enhancing vehicle safety, and cutting repair costs. The IAA Mobility clearly shows the need for such solutions. In the coming months, we will continue to expand our business in Germany and throughout Europe."